Success Starts with Partnership
GMSP® is a proven outsource partner – a seamless extension of your company, fulfilling your need for paper and tissue products at a value that beats in-house production. We provide professional, cost-efficient services paired with unmatched customer service.
We act in total integration with your team, so together we can help you and your clients achieve key objectives. We offer configurable solutions that provide the agility and flexibility you require in your outsource partner.
We also provide value-added services such as customer assistance, value engineering of projects (to optimize productivity), consistent job monitoring and a robust commitment to quality and service.
Our value proposition is to provide you with world-class quality and service through the following:
Cutting edge technology – Our modern presses, napkin machines and die cutting equipment are of the finest quality. 
Computerized pre-press, direct-to-plate technology – We can handle nearly all software requirements.
Advanced tracking systems – Our system offers up-to-date information on project progress, delivery, inventory, billing and much more.
World-class customer service –

Our talented staff is trained in lean manufacturing techniques, Six Sigma, and supply chain management programs to streamline processes.
Confidentiality – We're committed to being a seamless and transparent business partner.
Quality – The proof is in our full-time Quality Control staff, with a HACCP documented plan, and a "Superior" rating from the American Institute of Banking (AIB). Our policies and procedures are certified to meet the standards of the FDA.
We specialize in offset, small- to large-format flexographic printing. This unique capability allows us to run multiple substrates. We're fast, safe and reliable!
Our Prepress Department Offers:
MAC-based, Windows compatible software
100% CTP (computer-to-plate) systems
Our Press Department offers:
Offset printing
Flexographic printing
Digital printing
Small- and large-format printing
Our Finishing Department offers:
Die cutting
Folding
Poly-bags/shrink wrapping
Cutting edge technology, including modern presses, napkin machines and die cutting equipment are of the finest quality. We will meet or exceed your demanding production requirements.
Computerized pre-press, direct-to-plate technology. We can handle nearly all software requirements.
At GMSP®, we understand that food packaging has an extensive range of labeling demands. We specialize in large-format, full-color, food-safe custom label printing to one- and two-color pressure sensitive food labels that range from high volume retail freezer application to private label specialty products.
More than a supplier, GMSP® provides regulatory and industry information as well as packaging resources to support client compliance and product development:
Current food and nutritional labeling requirements
Product prototyping – supporting design, execution, revisions, and commercialization
Packaging compatibility – materials and inks engineered to specific product requirements
Vendor managed inventory – supporting pricing, inventory turn and lead times
Flexographic Pressure Sensitive Food Grade Labels
Flexography is a rotary printing method where ink is applied by  flexible rubber printing plates. Inks dry quickly and are safe for use on labels that come in direct contact with foods.
Pressure sensitive labels are the most common type of label used in the label converting industry today. These labels have largely replaced labels that were adhered with glue to a product's packaging. "Pressure sensitive labels" mean that the application of the label to the substrate simply needs pressure to stick. Pressure sensitive labels are chosen over glue applications because of the smooth look it creates, contouring around a product's packaging as well as its longevity.
Because pressure sensitive adhesives are sensitive to hot and cold temperatures, special adhesives are used in order to assure the labels hold up in these more extreme environments. Our experienced technical experts can guide you through the material selection and qualification process.
Whether you supply finalized digital production art or you need help with new product designs, our team of talented design professionals make sure your product meets the market in top form. 
Short runs are not a problem with the high-quality capabilities of our digital presses.
Offset printing presses use aluminum plates, which transfers images onto a rubber "blanket", and in turn, rolls that image onto a sheet of paper. It's called offset because the ink isn't transferred directly onto the paper.
Offset presses run efficiently and are often the best choice when larger quantities are needed.
Our food-safe offset printing process can accommodate up to eight-color designs. Offset printing provides accurate color reproduction, crisp, clean professional looking printing and maintains graphic fidelity to the highest degree.
We use the latest color management tools to ensure consistency of your product's brand identity.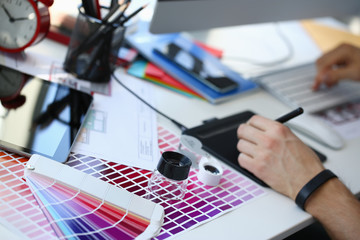 Your Satisfaction is Our Top Priority!
We believe that your needs are at the heart of everything we do. Please do not hesitate to contact us at any time for any reason. No concern is too small … we're here to help! Just call 1 (800) 421-0039 direct or email: Support@gmsp.com to connect with one of our experts.
Our Core Values permeate our entire organization to provide you the quality, service and value as expected, demanded and most importantly deserved by you – our customer.
Learn more about
job opportunities
at GMSP®